Product Description
Structure features :
1.The elestic element is made of nylon material ,which has high strength and wear resistance ,and is suitable for corrosive environment .The outer round surface of the steel driving wheel is quenched.
2.Type and dimendions og half-coupling holes and keyways .The marking method is according to the provisions of GB/T3852-1997″coupling hole and coupling type and size ",the 2 half coupling shaft hoke types can be arbitrarity combined.
3.Use temperature -20~+70.
4.The original model refers to the GB5015-85 series products.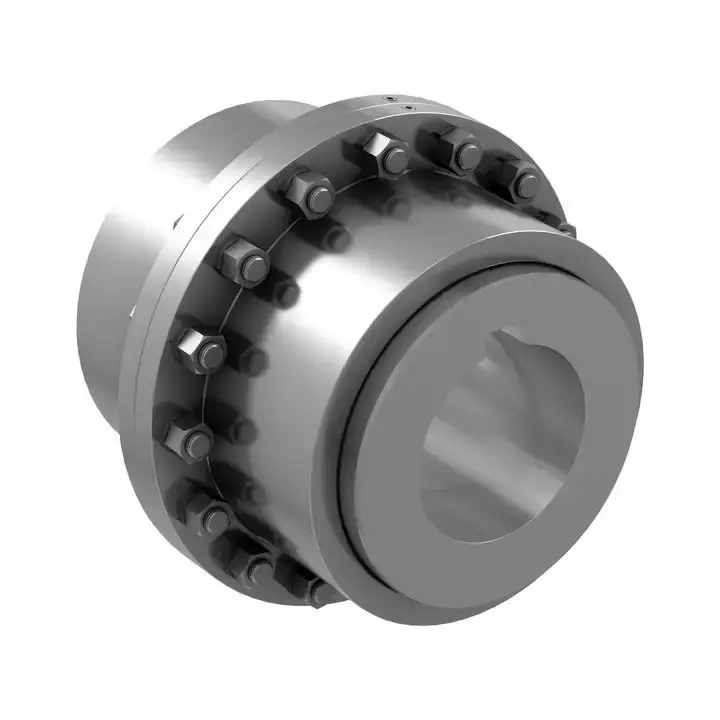 What are the maintenance-free options available for flexible couplings?
Several maintenance-free options are available for flexible couplings, designed to reduce or eliminate the need for regular maintenance and lubrication. These options offer long-lasting performance and reliability while minimizing downtime and operational costs. Below are some maintenance-free options for flexible couplings:
1. Maintenance-Free Elastomeric Couplings: Elastomeric couplings with a specific design and materials can be maintenance-free. These couplings often incorporate high-quality elastomeric elements that do not require periodic lubrication. The elastomeric material provides damping of shocks and vibrations and allows for misalignment compensation, making them suitable for various applications without the need for regular maintenance.
2. Non-Lubricated Metallic Couplings: Some metallic couplings are designed to operate without the need for lubrication. These couplings use self-lubricating materials or specialized coatings that reduce friction between moving parts, eliminating the need for manual lubrication. They can handle high torque and speed requirements while providing reliable performance over extended periods without maintenance.
3. Pre-Lubricated Couplings: Certain flexible couplings come pre-lubricated during manufacturing. These couplings have grease or lubricant already applied to the critical components, providing sufficient lubrication for an extended period of operation. As a result, users do not need to perform regular lubrication maintenance, reducing maintenance tasks and associated costs.
4. Sealed Couplings: Some flexible couplings are designed with integrated seals or shields that protect internal components from contaminants and prevent lubricant leakage. These sealed couplings are inherently maintenance-free, as they ensure long-lasting performance without the need for external maintenance or re-lubrication.
5. Non-Wearing Materials: Certain flexible couplings are constructed using non-wearing materials, such as high-performance polymers. These materials offer excellent resistance to wear and abrasion, reducing the need for maintenance and replacement due to wear-related issues.
6. Torque-Responsive Couplings: Some maintenance-free couplings are designed to disengage or slip when the torque exceeds a certain threshold. This feature protects the connected equipment from excessive loads, preventing damage and reducing the need for maintenance or repairs caused by overload conditions.
Summary: Maintenance-free options for flexible couplings are available, offering reliable and long-lasting performance without the need for regular maintenance and lubrication. These couplings utilize specialized materials, designs, and features to handle various operating conditions while minimizing downtime and operational costs. Selecting a maintenance-free coupling that suits the specific application requirements can significantly improve the overall efficiency and reliability of the mechanical system.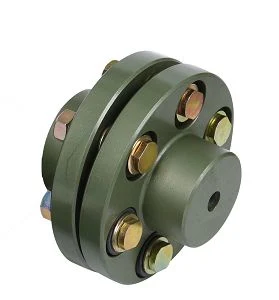 Can flexible couplings accommodate both radial and axial loads simultaneously?
Yes, flexible couplings are designed to accommodate both radial and axial loads simultaneously, making them versatile for various mechanical systems. The ability to handle these loads is one of the key advantages of using flexible couplings in power transmission applications. Here's how they manage both types of loads:
Radial Loads: Radial loads act perpendicular to the shaft's axis and can arise from forces that are not in line with the shaft, such as belt tension or bearing loads. Flexible couplings can handle radial loads due to their flexibility and ability to bend or deform slightly, redistributing the radial forces and minimizing the impact on the connected equipment.
Axial Loads: Axial loads act along the shaft's axis and are common in applications with thrust forces or axial movements. Flexible couplings can accommodate axial loads through their axial flexibility, allowing slight axial displacement without transmitting excessive forces to the connected components.
Angular Misalignment: Besides radial and axial loads, flexible couplings can also handle angular misalignment between the shafts. Angular misalignment occurs when the shafts are not perfectly aligned, and flexible couplings can compensate for this misalignment, reducing wear and stress on the connected machinery.
By accommodating both radial and axial loads, flexible couplings help prevent premature wear, reduce the risk of equipment damage, and contribute to smoother and more efficient power transmission. When selecting a flexible coupling for an application, it is essential to consider the expected radial and axial loads, as well as the required level of misalignment compensation to ensure optimal performance and longevity of the coupling and the connected equipment.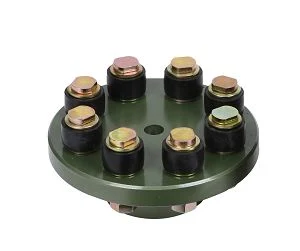 What are the maintenance requirements for flexible couplings?
Maintenance of flexible couplings is essential to ensure their reliable and efficient performance over their service life. Proper maintenance helps prevent premature wear, reduces the risk of unexpected failures, and extends the lifespan of the couplings. Here are some key maintenance requirements for flexible couplings:
Regular Inspection: Perform regular visual inspections of the flexible couplings to check for signs of wear, damage, or misalignment. Look for cracks, tears, or any other visible issues in the coupling components.
Lubrication: Some flexible couplings, especially those with moving parts or sliding surfaces, may require periodic lubrication. Follow the manufacturer's recommendations regarding the type and frequency of lubrication to ensure smooth operation.
Alignment Checks: Misalignment is a common cause of coupling failure. Regularly check the alignment of the connected shafts and adjust as necessary. Proper alignment reduces stress on the coupling and improves power transmission efficiency.
Torque Monitoring: Monitoring the torque transmitted through the coupling can help detect any abnormal or excessive loads. If the coupling is subjected to loads beyond its rated capacity, it may lead to premature failure.
Environmental Protection: If the couplings are exposed to harsh environmental conditions, take measures to protect them from dust, dirt, moisture, and corrosive substances. Consider using protective covers or seals to shield the couplings from potential contaminants.
Temperature Considerations: Ensure that the operating temperature of the flexible coupling is within its designed range. Excessive heat can accelerate wear, while extremely low temperatures may affect the flexibility of certain coupling materials.
Replace Worn or Damaged Parts: If any components of the flexible coupling show signs of wear or damage, replace them promptly with genuine replacement parts from the manufacturer.
Manufacturer's Guidelines: Follow the maintenance guidelines provided by the coupling manufacturer. They often include specific maintenance intervals and procedures tailored to the coupling's design and materials.
Training and Expertise: Ensure that maintenance personnel have the necessary training and expertise to inspect and maintain the flexible couplings properly. Improper maintenance practices can lead to further issues and compromise the coupling's performance.
By adhering to these maintenance requirements, you can maximize the service life of the flexible couplings and minimize the risk of unexpected downtime or costly repairs. Regular maintenance helps maintain the efficiency and reliability of the coupling in various industrial, automotive, and machinery applications.



editor by CX 2023-08-17