Product Description
Product Name
American Type Hose Clamp
Product Parameters
| | | | | | |
| --- | --- | --- | --- | --- | --- |
| Item(Small American Type) | Model | Brand width(mm) | Thickness(mm) | PCS/Bag | PCS/BOX |
| CZX-CLA-001 | 6-12mm | 8 | 0.6 | 100 | 5000 |
| CZX-CLA-002 | 10-16mm | 8 | 0.6 | 100 | 5000 |
| CZX-CLA-003 | 13-19mm | 8 | 0.6 | 100 | 5000 |
| CZX-CLA-004 | 16-25mm | 8 | 0.6 | 100 | 5000 |
| CZX-CLA-005 | 19-29mm | 8 | 0.6 | 100 | 5000 |
| | | | | | |
| --- | --- | --- | --- | --- | --- |
| Item(large American Type) | Model | Brand width(mm) | Thickness(mm) | KG/100PCS | PCS/BOX |
| CZX-CLA-001 | 14-27 | 12 | 0.6 | 1 | 2000 |
| CZX-CLA-002 | 18-32 | 12 | 0.6 | 1.3 | 2000 |
| CZX-CLA-003 | 21-38 | 12 | 0.6 | 1.55 | 2000 |
| CZX-CLA-004 | 21-44 | 12 | 0.6 | 1.61 | 2000 |
| CZX-CLA-005 | 27-51 | 12 | 0.6 | 1.7 | 2000 |
| CZX-CLA-006 | 33-57 | 12 | 0.6 | 1.8 | 2000 |
| CZX-CLA-007 | 40-63 | 12 | 0.6 | 1.9 | 1500 |
| CZX-CLA-008 | 46-70 | 12 | 0.6 | 2 | 1200 |
| CZX-CLA-009 | 52-76 | 12 | 0.6 | 2.2 | 1000 |
| CZX-CLA-571 | 59-82 | 12 | 0.6 | 2.36 | 1000 |
| CZX-CLA-011 | 65-89 | 12 | 0.6 | 2.5 | 800 |
| CZX-CLA-012 | 72-95 | 12 | 0.6 | 2.6 | 800 |
| CZX-CLA-013 | 78-101 | 12 | 0.6 | 2.7 | 700 |
| CZX-CLA-014 | 84-108 | 12 | 0.6 | 2.75 | 600 |
| CZX-CLA-015 | 91-114 | 12 | 0.6 | 2.8 | 600 |
| CZX-CLA-016 | 105-127 | 12 | 0.6 | 3 | 600 |
| CZX-CLA-017 | 118-140 | 12 | 0.6 | 3.4 | 500 |
| CZX-CLA-018 | 130-152 | 12 | 0.6 | 3.5 | 500 |
| CZX-CLA-019 | 141-165 | 12 | 0.6 | 3.7 | 500 |
| CZX-CLA-571 | 155-178 | 12 | 0.6 | 4 | 500 |
| CZX-CLA-571 | 175-197 | 12 | 0.6 | 4.3 | 400 |
| CZX-CLA-571 | 194-216 | 12 | 0.6 | 4.4 | 400 |
| CZX-CLA-571 | 213-235 | 12 | 0.6 | 4.9 | 400 |
| CZX-CLA-571 | 232-254 | 12 | 0.6 | 5.3 | 400 |
| CZX-CLA-571 | 251-273 | 12 | 0.6 | 5.6 | 400 |
| CZX-CLA-026 | 270-292 | 12 | 0.6 | 6 | 400 |
| CZX-CLA-571 | 289-311 | 12 | 0.6 | 6.2 | 400 |
| CZX-CLA-571 | 100 | 12 | 0.6 |   |   |
| CZX-CLA-571 | 200 | 12 | 0.6 |   |   |
| CZX-CLA-030 | 300 | 12 | 0.6 |   |   |
| CZX-CLA-031 | 350 | 12 | 0.6 |   |   |
| CZX-CLA-032 | 400 | 12 | 0.6 |   |   |
| CZX-CLA-033 | 450 | 12 | 0.6 |   |   |
| CZX-CLA-034 | 500 | 12 | 0.6 |   |   |
| CZX-CLA-035 | 550 | 12 | 0.6 |   |   |
| CZX-CLA-036 | 600 | 12 | 0.6 |   |   |
Product name
stainless steel clamp(201,304,316 is optional)
Features
Exquisite workmanship, no rust
Product properties
see parameter table
Product color
Stainless steel color
Product material
Authentic stainless steel all steel (including screws)
Product Specifications
Various specifications (various sizes can be customized)
Product Usage
Widely used in stainless steel, wire and cable, new energy vehicles, hoses, ships, chemicals and other industries
The hose clamp is relatively small and its value is relatively low, but the role of the hose clamp is huge. American hose clamp, also known as clamp. American stainless steel hose clamps: divided into small American hose clamps and large American hose clamps. The width of the hose clamps is 12.7mm and 14.2mm respectively. Using through-hole technology, the hose clamp has a wide range of applications. It is suitable for fasteners for connecting soft and hard pipes with a thickness of 30mm or more. The appearance after assembly is beautiful. Features: The worm has low friction, which is suitable for middle and high-end vehicles, pole-holding equipment or the connection of anti-corrosion materials.
American type hose clamp: divided into 2 types: iron galvanized and stainless steel. The main difference is that the button pitch is perforated (ie through-hole button). The market is mainly made of stainless steel, which is mainly used in high-end markets such as auto parts and poles. The price Higher than the other two.
Detailed Photos
Product Application
Production Workshop
International Experiance
Certifications
After Sales Service
1.Reply in 24 hours.
2.In time response and professional suggestions.
3.Replacement product and tailor-made product both can do. 
4.Small trial order accepted.
5.Certification, complete certificates,like CE, EU,Rohs, FDA.
6.Good quality and competitive price.
Contact Person
Celina Du
HangZhou Xihu (West Lake) Dis. Rubber & Plastic New Material Co., Ltd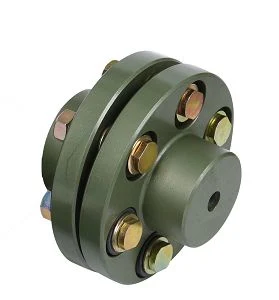 What are the key features to look for when purchasing a flexible coupling?
When purchasing a flexible coupling, several key features should be considered to ensure it meets the specific requirements of the application and provides reliable performance. The following are the key features to look for:
1. Type of Coupling: There are different types of flexible couplings available, such as jaw couplings, beam couplings, bellows couplings, disc couplings, and more. Each type has its advantages and limitations, so choosing the right type depends on factors like misalignment compensation needed, torque capacity, and application requirements.
2. Material: The material of the coupling is crucial for its durability and performance. Common materials include stainless steel, aluminum, steel, and various elastomers. Select a material that can withstand the environmental conditions, loads, and temperature ranges of the application.
3. Size and Dimensions: Ensure that the coupling's size and dimensions match the shaft sizes and available space in the system. Oversized or undersized couplings may lead to inefficiencies, misalignment, and reduced performance.
4. Torque Rating: Consider the maximum torque the coupling can handle to ensure it can transmit the required power without failure or damage.
5. Speed Rating: Check the coupling's maximum rotational speed capability to ensure it can handle the desired operating speed without issues.
6. Misalignment Compensation: Different couplings offer varying degrees of misalignment compensation, such as angular, parallel, and axial misalignment. Choose a coupling that can accommodate the expected misalignments in the system.
7. Backlash: For precision applications, consider couplings with minimal or zero-backlash to prevent motion inaccuracies and ensure precise positioning.
8. Operating Environment: Assess the environmental conditions, including temperature, humidity, dust, and chemical exposure, and select a coupling with suitable resistance to these factors.
9. Maintenance: Decide whether maintenance-free couplings or those requiring periodic lubrication align better with the application's requirements and maintenance schedule.
10. Electrical Isolation: If required, choose couplings with electrical isolation features to prevent current flow between connected shafts.
11. Dynamic Behavior: Evaluate the coupling's dynamic performance, including resonance and damping characteristics, to ensure smooth operation under various loads and speeds.
12. Application Compatibility: Verify that the selected coupling is suitable for the specific application, such as pumps, compressors, robotics, automation, or other industrial processes.
Summary: When purchasing a flexible coupling, consider factors such as the type of coupling, material, size, torque rating, speed rating, misalignment compensation, backlash, operating environment, maintenance, electrical isolation, dynamic behavior, and application compatibility. Careful consideration of these features will ensure that the coupling meets the demands of the application, provides reliable performance, and contributes to the overall efficiency of the mechanical system.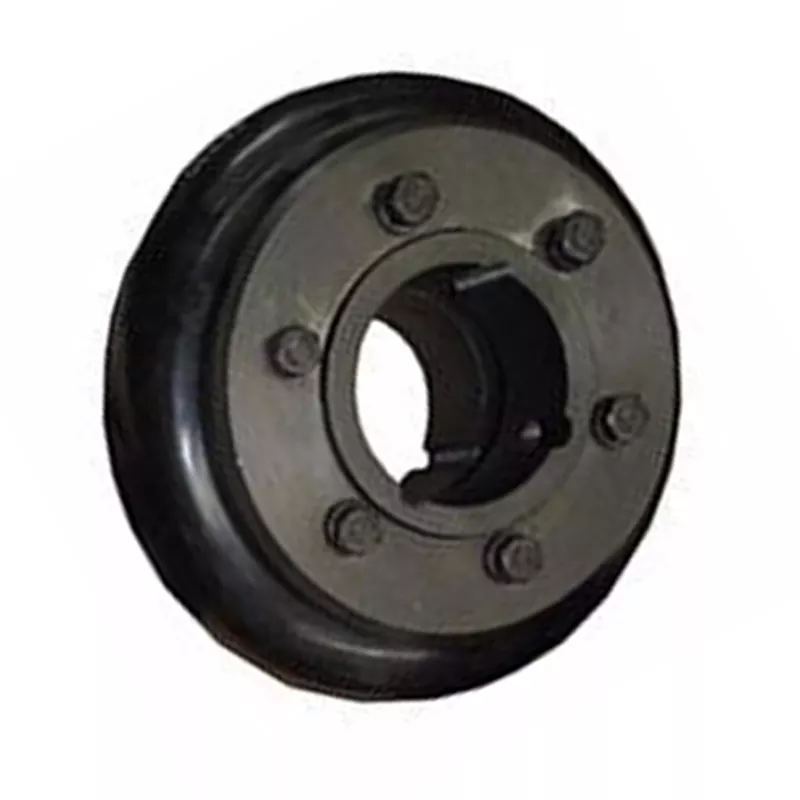 Can flexible couplings be used in pumps, compressors, and fans?
Yes, flexible couplings can be used in pumps, compressors, and fans, and they are commonly employed in these types of rotating machinery. Flexible couplings offer several advantages that make them suitable for such applications:
Misalignment Compensation: Pumps, compressors, and fans often experience misalignments due to various factors, such as thermal expansion, foundation settling, or component wear. Flexible couplings can accommodate angular, parallel, and axial misalignments, helping to maintain proper alignment between the driving and driven components.
Vibration Damping: Flexible couplings help dampen vibrations in rotating machinery, which is essential for smooth operation and reduced wear on components. In pumps, compressors, and fans, vibration control is crucial to prevent premature failure and maintain reliable performance.
Shock Load Absorption: These rotating machines may encounter shock loads during startup or shutdown, especially in reciprocating equipment like reciprocating pumps or compressors. Flexible couplings can absorb and mitigate the impact of such loads, protecting the connected equipment from damage.
Reduced Maintenance: Flexible couplings with elastomeric elements or other self-lubricating features require minimal maintenance, leading to cost savings and reduced downtime in pumps, compressors, and fans.
Energy Efficiency: Certain flexible coupling designs, such as beam couplings or certain elastomeric couplings, have low mass and inertia. This characteristic helps improve the energy efficiency of rotating machinery, which is particularly beneficial in large-scale pumps, compressors, and fans used in industrial applications.
Adaptability: Pumps, compressors, and fans often have varying operating conditions and load profiles. Flexible couplings are adaptable to different operating environments, making them suitable for diverse applications.
In summary, flexible couplings offer several performance-enhancing features that make them well-suited for use in pumps, compressors, and fans. Their ability to accommodate misalignment, dampen vibrations, absorb shocks, and reduce maintenance requirements contributes to improved reliability, efficiency, and longevity of the connected rotating machinery.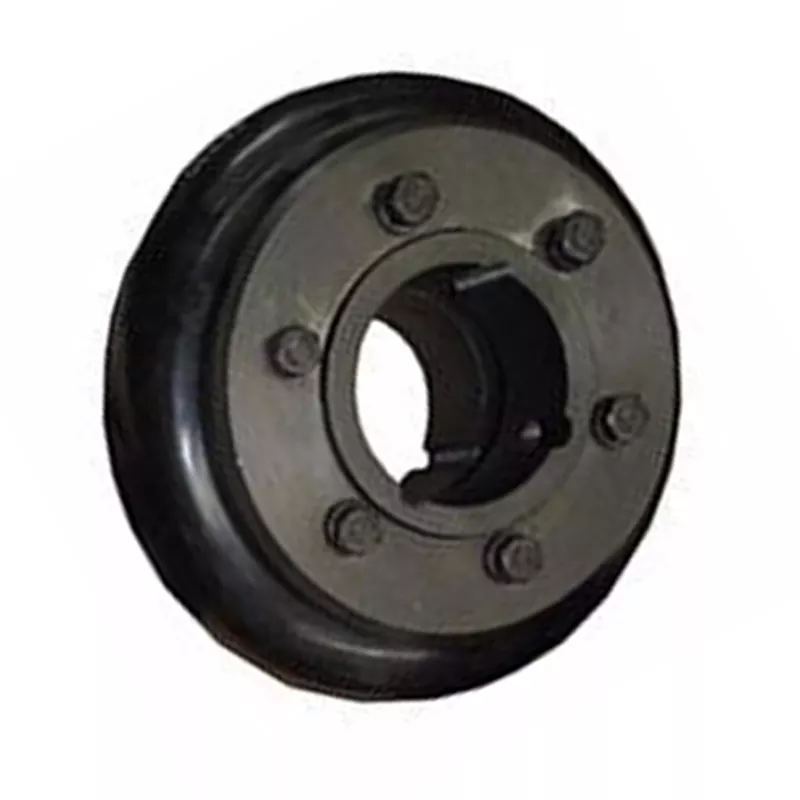 What are the advantages of using flexible couplings in mechanical systems?
Flexible couplings offer several advantages in mechanical systems, making them essential components in various applications. Here are the key advantages of using flexible couplings:
Misalignment Compensation: One of the primary advantages of flexible couplings is their ability to compensate for shaft misalignment. In mechanical systems, misalignment can occur due to various factors such as installation errors, thermal expansion, or shaft deflection. Flexible couplings can accommodate angular, parallel, and axial misalignment, ensuring smooth power transmission and reducing stress on the connected equipment and shafts.
Vibration Damping: Flexible couplings act as damping elements, absorbing and dissipating vibrations and shocks generated during operation. This feature helps to reduce noise, protect the equipment from excessive wear, and enhance overall system reliability and performance.
Torsional Flexibility: Flexible couplings provide torsional flexibility, allowing them to handle slight angular and axial deflections. This capability protects the equipment from sudden torque fluctuations, shock loads, and torque spikes, ensuring smoother operation and preventing damage to the machinery.
Overload Protection: In case of sudden overloads or torque spikes, flexible couplings can absorb and distribute the excess torque, protecting the connected equipment and drivetrain from damage. This overload protection feature prevents unexpected failures and reduces downtime in critical applications.
Reduce Wear and Maintenance: By compensating for misalignment and damping vibrations, flexible couplings help reduce wear on the connected equipment, bearings, and seals. This results in extended component life and reduced maintenance requirements, leading to cost savings and improved system reliability.
Compensation for Thermal Expansion: In systems exposed to temperature variations, flexible couplings can compensate for thermal expansion and contraction, maintaining proper alignment and preventing binding or excessive stress on the equipment during temperature changes.
Electric Isolation: Some types of flexible couplings, such as disc couplings, offer electrical isolation between shafts. This feature is beneficial in applications where galvanic corrosion or electrical interference between connected components needs to be minimized.
Space and Weight Savings: Flexible couplings often have compact designs and low inertia, which is advantageous in applications with space constraints and where minimizing weight is crucial for performance and efficiency.
Cost-Effectiveness: Flexible couplings are generally cost-effective solutions for power transmission and motion control, especially when compared to more complex and expensive coupling types. Their relatively simple design and ease of installation contribute to cost savings.
In summary, flexible couplings play a vital role in mechanical systems by providing misalignment compensation, vibration damping, overload protection, and torsional flexibility. These advantages lead to improved system performance, reduced wear and maintenance, and enhanced equipment reliability, making flexible couplings a preferred choice in various industrial, automotive, marine, and aerospace applications.



editor by CX 2023-08-10